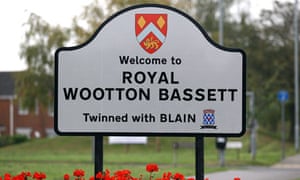 Wootton Bassett, the first town in more than 100 years to get the title "Royal", has unveiled its new road signs.
The Wiltshire town officially becomes Royal Wootton Bassett this week when Princess Anne visits on Sunday. The title was bestowed in recognition of its efforts to honour the UK's war dead.
Repatriations of fallen troops took place through Wootton Bassett from 2007 until September, when they were moved to RAF Brize Norton in Oxfordshire.
The town is renowned for the dignified and moving way local people lined the high street in silence with their heads bowed to show their respects.
See more here.